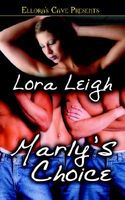 Released: July 25, 2008
Publisher: Ellora's Cave
Rated: Adult
Marly's love for Cade has spanned her teenage years, and survived strong and intact into womanhood. Her fantasies and daydreams have sustained her, but she's no longer content with merely imagining the touch of his hands, the taste of his kiss. It's time to seduce the tough, sexy cowboy. She's heard the rumors for years, the tales of his sexual preferences. She's prepared herself to accept his desires. Prepared her body for his touch. But she wasn't prepared for the choice to come... Cade's dark desires, his sexual excesses are based in the past. In a time when pain, shame, and blood stains his very soul. He carries a secret shared only with his brothers. A secret that has scarred the bond, the ability to be a brother or to accept the love of the men he was raised with. He knows the only way to prove his loyalty, his love for those brothers and Marly will be the key. She has a choice. She can surrender to Cade's needs, his soul deep desires, or she can walk away. A choice only Marly can make. A choice that will change her life forever.
What I thought:
I really do like Lora Leigh's writing. But I had a few little things in this one that just didn't sit right, even when I was trying to just enjoy the story. A personal fear is when I say no and nothing stops, and in this story we see Marly say no in several situations and nothing stops. For most this probably isn't a problem, but those who are like me, it may rub you the wrong way.
Marly is stated to be 20 years of age, who is offered wine by the August boys and is able to mix her drinks like a pro. I don't usually mind, but it seemed to contradict Cade's statement of her being unused to alcohol.
One last one, Marly knows what to expect of Cade when she tries to seduce him. I expect her to be shocked of the experience first hand, but it was her trying to change him that made me frustrated. She wants him, but now how he wants her. Men don't change that fast, hell, most people take years to change. No big changes happen over night... and most people don't give up a lifestyle that does it for them.
Other than that, I liked the story! Really, I did! I loved Marly took action of what she wanted, I loved that she stood up for herself, and I love how she was ready to prove she isn't a child anymore.
I gave it 3 stars!