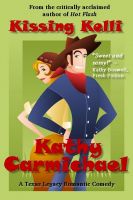 Released: February 9, 2011
Publisher: MacGowan Press
*Given to me by the author for an honest review*
Rodeo champion and wealthy rancher, Bobby Gray Nelson, is used to women setting out to lasso him. But when he meets feisty Kelli Palmer, she refuses him on every count. He's always up for a challenge and is determined to woo this beautiful veterinarian who he thinks could be his soul mate.
Kelli Palmer doesn't believe love is in the chute for her. She's devoted herself to the animals she cares for and the family she adores. So when her sister claims dibs on the handsome cowboy, Kelli reins in her attraction and tells him to skedaddle.
Losing is not an option for this gorgeous cowboy. He comes up with a 5-step plan to place his brand on Kelli's heart.
The problem is, he can't even make it to the first step. Never fear, though. He's got a Plan B.
Can Kelli stand her ground -- even after his toe-curling kiss?
What I thought:
What people will do for their family! Kelli is trying not to get caught up in a delicious hunk of a man because her sister, Lori, saw him first. What ensues is then denial that creates a great amount of tension. I'm a romance junkie and I live for that tension!
My first Kathy Carmichael book, I had sat down with the intentions of just reading the first chapter or two and ended up not able to put it down until I had read the entire book. I really liked it. I thought it was well written and the story was just great. Sometimes I thought the issue with Lori seemed to come out of left field, but in the end it worked out.
This was funny, sweet and romantic. What girl doesn't dream of being swept off her feet despite how much she's trying to resist temptation? Even if that temptation comes in the form of a studly cowboy.
My Rating: