"Waiting On" Wednesday is a weekly event,
hosted here
, that spotlights upcoming releases that we're eagerly anticipating.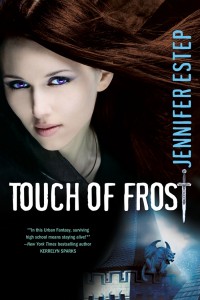 Touch of Frost
by Jennifer Estep
A Mythos Academy Novel, Book 1
Release Date: July 26, 2011
Gwen Frost is an outsider at Mythos Academy, a school of myths, magic and warrior whiz kids, where even the lowliest geek knows how to chop off somebody's head with a sword. Gwen is an outsider both to the students of the Academy and the rest of the world. But when her gift of psychometry - the ability to know an object's history just by touching it reveals dark undercurrents and danger afoot, she has no choice but to get involved.
I just love Jennifer Estep's writing. I love her Elemental Assassin series, and I can't wait to try out this one.