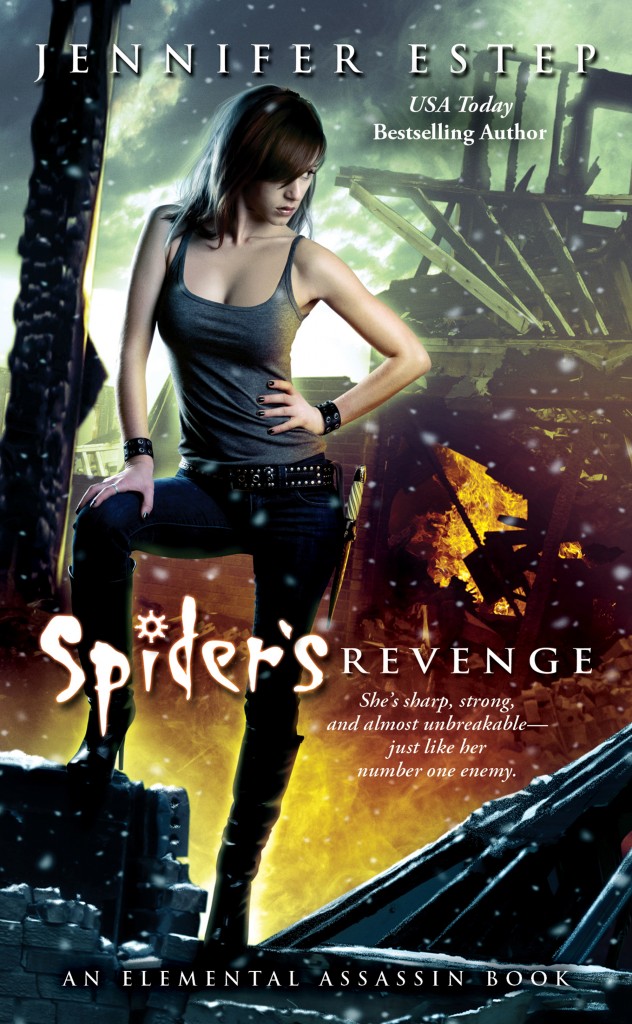 Released: September 27, 2011
Publisher: Pocket Books
Rated: Adult
Series: Elemental Assassin, Book 5
Buy
Amazon
|
Book Depository
*Book was provided by author for honest review*
Old habits die hard for assassins.
And I plan on murdering someone before the night is through.
Killing used to be my regular gig, after all. Gin Blanco, aka the Spider, assassin-for-hire. And I was very, very good at it. Now, I'm ready to make the one hit that truly matters: Mab Monroe, the dangerous Fire elemental who murdered my family when I was thirteen. Oh, I don't think the mission will be easy, but turns out it's a bit more problematic than expected. The bitch knows I'm coming for her. So now I'm up against the army of lethal bounty hunters Mab hired to track me down. She also put a price on my baby sister's head. Keeping Bria safe is my first priority. Taking Mab out is a close second. Good thing I've got my powerful Ice and Stone magic—and my irresistible lover, Owen Grayson—to watch my back. This battle has been years in the making, and there's a good chance I won't survive. But if I'm going down, then Mab's coming with me . . . no matter what I have to do to make that happen.
What I thought
I can't express how much I love this series. I just think that Gin is so awesome and that the world this story is set in is just unique and amazing. The elemental side of this series completely captivates me. Besides being so different from any other paranormal series out there, Jennifer isn't afraid to pull any punches. It's not a fairy tale story, it's dark and has it's brutal moments.
We finally get to see the showdown with Mab. I was very excited over this at first. After I started reading and the further I got, however, I was on pins and needles. I could almost feel Gin's need to look over her shoulder as the story progressed. The story was pure genius. I was anxious the whole book, right up until the very end. Gin gives us some of her snarkiness we all love to lighten the mood when necessary. Have I mentioned that Gin rocks?
Besides the Mab storyline, there are some nice threads of story that are tied up at the end that left me a big ball of melty bits. All the stuff that goes on, it might seem like a lot at first, but I love how well the story is balanced. It flows extremely well and makes it a joy to read. I really do recommend this series to everyone. I have yet to find a series quite like this one. It doesn't get much better than Gin.
My Rating





Copyrighted 2010-2011 by Coffee Table Reviews. Use of all or any part of review is prohibited without consent, except use by authors/publishers.