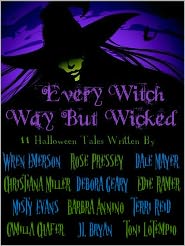 When I was looking for some great Halloween type stories, I was introduced to Barbra Annino. Barbra was in the process of putting together this anthology when I came to her and asked if she might be willing to let me feature her book and maybe a guest post for Halloween. Very graciously, Barbra accepted and was even willing to give away a few copies of this Anthology, that benefits
Kids Need To Read
.
About the Book
Foreword by Amanda Hocking

Take twelve paranormal authors. Toss them together in one anthology. Add a dash of romance, a pinch of humor and a dollop of mystery. Stir in a few ghosts, a handful of sorcerers and garnish with magic for the perfect witch's brew.

A Tale of Two Witches ~ Christiana Miller and Barbra Annino
Two young witches join forces to take on a soul-stealer when he threatens the small town of Amethyst, IL.

Black Magic Wiccan ~ Toni LoTempio
On one of her last assignments before leaving PSI, Wiccan witch Morgan Hawkes calls upon her Voodoo heritage to battle a vengeful spirit.

The Kiss ~ Edie Ramer
In this modern-day version of Sleeping Beauty, a woman whose ancestor was accused of being a witch in Salem is the only hope of a dying man with unusual powers.

The Trouble With Spells ~ Camilla Chafer
A witch couple must solve a family mystery using both their magic and their wits.

Rianna's Revenge ~ Dale Mayer
A young hydromancer must win a challenge to save her place as rightful heir to her elemental house. When she discovers her ex--the man she still loves--is one of the judges, she wonders just how many enemies she's really fighting.

A Ghostly Match ~ Misty Evans
When a Voodoo matchmaker looking for her soul mate pleads to her dead grandmother for help, she opens the door to a ghostly client with an impossible demand.

A Samhain Surprise ~ Debora Geary
Enchanter's Realm is an online game for witches. And the creators have a surprise ready this Hallow's Eve.

The Witch is Back ~ Rose Pressey
Stormy Sanders discovers a beautiful crystal, but with it comes a witchy fairy godmother. When Stormy attempts her first magic spell on Halloween night, mysterious Gavin Wickcliffe shows up at her door. That's when she realizes there's a lot more to magic than she expected.

Cats and Dogs ~ J.L. Bryan
Enchanted cookies from a witchy neighbor help connect Sadie with her own pets--and that handsome neighbor she's been eyeing.

The Hazards of Desire ~ Wren Emerson
Love hurts, but Desire can kill. When a young girl has a conversation with an old woman long shunned by the town, she finds out why it's best to guard your emotions closely and be careful who you put your faith in. Especially when it comes to trusting your own heart.

Orion's Moon ~ Terri Reid
When blood-born witch Cassidy Maguire opens her home to a stray dog she names Orion, little does she realize that she will not only be the hunter, but the hunted.



I spent a great deal of time with my Irish grandmother and her sisters when I was young. Anyone familiar with the culture of the Emerald Isle knows it is steeped in superstition and supernatural phenomenon. Ghost stories weren't told around a dim campfire at our house. They were shared over coffee, cake and Marlboros. They were passed along like a saltshaker, not to be feared--"because the dead cannot hurt you, only the living can"--but to be revered as tiny lessons gifted to us by the dearly departed.




I used to watch the women in my family share recipes and swap stories that would scare the pants off my friends, but these women weren't fazed by the shocking tales they told. Often I would imagine--listening to them wax on about the prom date that disappeared through the cemetery bars--that they were witches dishing out potions and spells.




And perhaps they were. Because I believe there's a little bit of witch (or warlock) in all of us. Although the potions may only be as exotic as a Cabernet and the spell may come in the form of a kind ear and chocolate layer cake, still, there is strength within us that can transcend any problem. There's something magical about that.




So that's why I wanted to put together this witchy-themed anthology to benefit the

Kids Need To Read

organization. Aside from donating books to poorly funded libraries across the country, Kids Need to Read also provides literature to juvenile offender facilities, dropout recovery programs and urban after-school organizations.




This anthology is an eclectic mix of stories that combines mystery, humor and romance perfect for this time of year. I hope you'll enjoy reading it as much as I enjoyed compiling it with this fabulous group of paranormal writers.



About The Author
Barbra Annino is a Chicago native, a book junkie and Springsteen addict. A former bartender and humor columnist, she finds the funny in just about everything. Except those Humane Society commercials, which she holds personally responsible for the reason she has three Great Danes. She is currently working on the third title in this series, Tiger's Eye.
The Giveaway!!
Barbra is giving away 3 eCopies of the anthology, Every Witch Way But Wicked. To Enter, leave a comment below with your email address and tell us whot your favorite witch is!
Contest ends Nov 5th at Midnight.