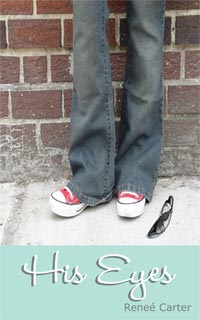 Released: August 28, 2009
Publisher: Outskirts Press
Rated: YA
Buy:
Amazon
Amy Turner's about to graduate from high school and all she wants is a job. Actually, all she wants is to find a way to pay for college. Amy certainly isn't looking for love when she answers an ad to baby-sit a boy-she just needs the cash. But the job has a catch: The boy is blind...and he's her age. Tristan Edmund may be hot, but he doesn't want Amy's help. Or so he thinks. After being blinded in a horse show-jumping competition, Tristan spends his days in the dark, refusing to accept his disability. Much to his annoyance, Amy bursts into his life and drags him into the light. But just as the two begin to see something in each other, Tristan's beautiful ex-girlfriend shows up. Will the temptation be too much, or will Tristan choose the girl who really sees him?
What I thought
I enjoyed His Eyes. While parts of it didn't feel terribly realistic, I was still able to enjoy the story. This was a different kind of romance that I'm used to and I like that about the book. It wasn't typical and it wasn't something I've read before.
I was expecting Tristan to be a little to be a little more angsty. While he did come around a little sooner than I would have liked, I still felt bad for him and had hoped the best for him in his circumstance. Amy was pretty good with him in getting him out and about and to learn how to deal with his new life out in the world.
I'm not sure I really bought the part about someone hiring a babysitter for Tristan, but it did make for a cute story though.
My Rating



Copyrighted 2010-2011 by Coffee Table Reviews. Use of all or any part of review is prohibited without consent, except use by authors/publishers.