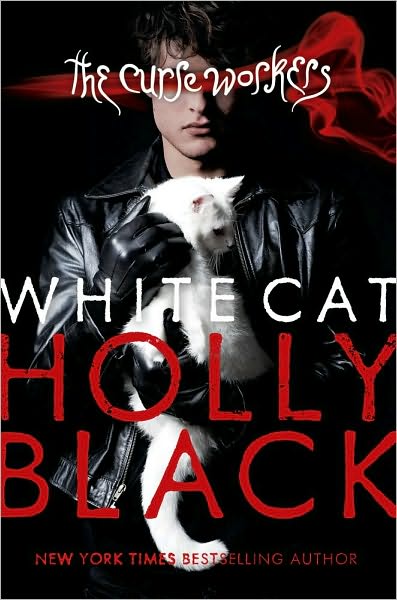 Released: May 11, 2010
Publisher: Listening Library
Rated: YA
Series: Curse Workers, Book 1
Buy:
Amazon
Cassel comes from a family of curse workers -- people who have the power to change your emotions, your memories, your luck, by the slightest touch of their hands. And since curse work is illegal, they're all mobsters, or con artists. Except for Cassel. He hasn't got the magic touch, so he's an outsider, the straight kid in a crooked family. You just have to ignore one small detail -- he killed his best friend, Lila, three years ago.
Ever since, Cassel has carefully built up a façade of normalcy, blending into the crowd. But his façade starts crumbling when he starts sleepwalking, propelled into the night by terrifying dreams about a white cat that wants to tell him something. He's noticing other disturbing things, too, including the strange behavior of his two brothers. They are keeping secrets from him, caught up in a mysterious plot. As Cassel begins to suspect he's part of a huge con game, he also wonders what really happened to Lila. Could she still be alive? To find that out, Cassel will have to out-con the conmen.
Holly Black has created a gripping tale of mobsters and dark magic where a single touch can bring love -- or death -- and your dreams might be more real than your memories.
What I thought
Not only was this an absolute amazing story, it was also a brilliant audiobook. I loved listening to Jesse Eisenberg tell this tale. I've never really had any feelings either way for Jesse as an actor, but Jesse as a reader... I highly enjoyed it.
This book has a lot going for it. One, the unique world of curse work. While you have read plenty of other books with mob characters or con artists, I have yet to come across another with anything close to a curse worker. And it's all the better for it. I loved getting to know the different possibilities of talents that curse workers can hold and seeing how the 'blow back' can effect them. I'm not going to lie, the blow back was probably one of my favorite parts about this book because while these guys have some amazing talents, they don't come free (like they might in another book).
What an incredible mystery! The audiobook kept me glued to my laptop/mp3 player until I had listened to the whole thing. It was suspenseful and completely captivating. I loved the characters and I loved how the author led false clues around (at least, I'm assuming she did) about the who or what because I thought I had it all figured out a time or two only to be proven wrong.
White Cat was just brilliant. I highly recommend this book, but more so the audiobook. I don't know what took me so long to finally read this book... but I am so glad that I finally got around to getting into this series.
My Rating





Copyrighted 2010-2011 by Coffee Table Reviews. Use of all or any part of review is prohibited without consent, except use by authors/publishers.